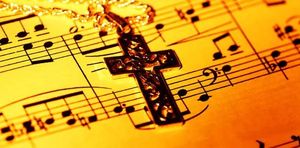 Answers in Genesis 
Answers in Genesis is an apologetics ministry, dedicated to helping Christians defend their faith and proclaim the gospel of Jesus Christ effectively. We focus on providing answers to questions about the Bible—particularly the book of Genesis—regarding key issues such as creation, evolution, science, and the age of the earth. 
Ark Encounter
The Ark Encounter is a one-of-a-kind historically themed attraction. In an entertaining, educational, and immersive way, it presents a number of historical events centered on a full-size, all-wood Ark, which should become the largest timber-frame structure in the USA. It is designed to be family oriented, historically authentic, and environmentally friendly.​ 
Bible Baptist Church Mauston, WI 
Offering a comfortable atmosphere, upbeat music, relevant teaching. All the time, God is good - and we just want to share that with you. ​​ 
Christian Motorcyclists Association 
Come ride with us! CMA is a servant minded interdenominational motorcycle ministry with a non-denominational message of hope and love through Jesus Christ. Enjoy the family atmosphere, make life-long friends, and join an army of people dedicated to changing the world, one heart at a time in the highways and byways. 
Christian Motorcyclists Association North Central Region 
CMA has split the United States into six regions with one Evangelist overseeing each region. The purpose of a Regional Evangelist is that of a pastor who provides leadership, spiritual wisdom, and training in the ministry of CMA. Regional Evangelists are also ready and willing to equip each member to do the work the Lord has placed on the hearts of CMA members across the nation.​ 
Creation Museum 
Prepare to believe--Prepare to Believe The state-of-the-art 70,000 square foot museum brings the pages of the Bible to life, casting its characters and animals in dynamic form and placing them in familiar settings. Adam and Eve live in the Garden of Eden. Children play and dinosaurs roam near Eden's Rivers. The serpent coils cunningly in the Tree of the Knowledge of Good and Evil. Majestic murals, great masterpieces brimming with pulsating colors and details, provide a backdrop for many of the settings. 
Dayspring Trio 
Dayspring is a southern gospel music ministry devoted to reaching the lost and edifying believers through song. We are thankful every day for the blessings that God has poured out on this ministry and for the support of all the smiling faces that greet us everywhere we go.  
​The Foresters
The Foresters​ sing southern and traditional Gospel Music. They play a large variety of instruments including, Piano, Dobro, Bass Guitar, Lead Guitar, Acoustic Guitar, Fiddle, Mandolin, Harmonica, Drums, Organ and more. They write much of the material they sing. They also sing many of the great old hymns and gospel songs of the church. 
​John and Kate Denner
John and Kate are ready and willing to entertain, encourage and tickle your senses with fun and enjoyable vocals, instrumentals and a routine of comedy that is sure to please even the most passive listener. 
New Beginnings
New Beginnings - We Transform Lives - Helping homeless learn how to live a better life by making good choices and to recover from their hurts, habits and hang ups. 
Real Life Christian Church--Clermont, FL 
Real Life is about changed lives. Our desire is to see real people find real faith. Our hope is to make Real Life a place where everyone can feel comfortable to come and experience an amazing God in a very real way. 
Reasons For Hope
Reasons For Hope exists  to direct people to the Biblical Jesus by offering HOPE. H-elping Christians share the Gospel of Jesus Christ. 
O-ffsetting secular thinking with Biblical truth.  P-roviding resources that give Biblical answers to real-world questions.  E-ncouraging the church to rely on God's Word as the foundation for their thoughts, their words and their actions.
Science Integrity and 4iam.org
Dr. Don Johnson--with earned Ph.D.s in both informational and  natural sciences--the founder of Science Integrity, once believed that anyone not  accepting the proven evolutionary scenario that was ingrained during his science education was of the same mentality as someone believing in a flat Earth.  Dr. Johnson feels that "Scientific integrity needs to be restored so that ideas that have no methods to  test or falsify are not considered part of science. Science needs to avoid  unsubstantiated speculation based on science as we don't know it."