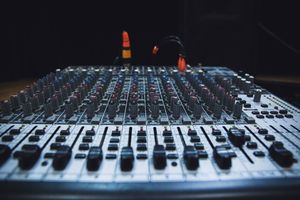 RK Sound Services
Consulting 
First things first.  We will sit down with you to discuss your goals and how we can best meet your needs to create an interesting project with music that truly represents your unique talents. 
Tracking (Recording)
This can be done by direct input, microphones, or MIDI input.  We record multiple tracks for each instrument and vocal part.
Although we prefer to have you record in an acoustically treated space, like our studio, we can come to you to track your project.
Editing
Standard editing services:
Comping--selecting the best parts of each recorded track, then combining them into one awesome track! Eliminating mistakes, flubs, and unwanted noises.
Tuning or pitch-correcting vocals.  
Vocal Alignment--adjusting starts and stops of of words so that multiple vocal tracks are sung "together." 
Additional editing services:
Quantizing (timing correction) of acoustic drums
Drum Augmentation--replacing acoustic drums with high quality drum samples. 
Mixing
Balancing volumes and setting the stereo field. Applying effects: like EQ, compression, reverb, delay, chorus.  Use other techniques to sweeten the sound, add punch to a song where needed, and tame the dynamic range of parts with large volume swings. 
After we finish your mix, you need to be satisfied.  We will do up to two mix revisions to get the sound you are looking for.  
Mastering 
Putting the final touches on the song to enhance the overall feel and bring volume up to industry standards.  The mastering phase is also used to get all of the songs in a project to sound like they are part of the same project.  After your songs are mastered, they are ready for duplication, replication, or download.  
Custom Soundtracks 
This is one of our favorite things to do.  You supply a song that you've written, and we will create a custom music background for your song.  Standard instruments included are: drums, bass guitar, guitar (acoustic or electric),  and keyboard (piano, organ, synth) or  second guitar (acoustic or electric.)   Your submission can be an a capella rendition or a track with vocal and an accompanying instrument.  When we are finished, you just need to sing the vocals to complete your song. 
Besides a fully mixed and mastered rendition of your song with a full-band sound  we can supply you with a backing track that you can use to perform with. 
Soundtrack extras: 
     Additional vocal harmonies, extra guitars or keyboards, strings, brass, instrumental solos.
Other Services
Provide camera ready art for your CD/EP project
Get your songs copyrighted.