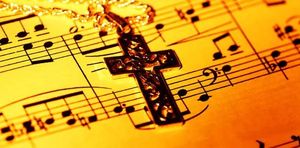 Mission Statement
We aim to serve the Lord our God with all our heart, soul and mind.  It is a blessing to combine two things that we love; Scripture and music.  God has gifted us to present the clear message of His love through the Gospel of Jesus Christ in the format of Christian songs, both old and new.  The focus of our music is to bring glory to God, encourage and strengthen believers and present the Word of God in an uplifting way to all who will hear.
1 Thessalonians 5:11 Therefore comfort each other and edify one another, just as you also are doing.
 Serving our Risen Savior through song.