News Articles
From the The Answers in Genesis website: 
It's always nice to present a special musical treat for our staff on Tuesdays and Thursdays during our chapel sessions. Recently, Robb and Kathy Blanchette played some songs from their CD Crossroads, and they helped the staff get off on a great footing to start the work day. 
Robb and Kathy, now that they are retired educators, use their RV to travel around the country to volunteer at ministries such as the Creation Museum—and also to perform their uplifting and God-honoring music whenever possible. 
They often travel between Wisconsin and Florida, states where they have family—please consider having them come to your church or group if you are in-between (and even if you live in the West, they have family there, too, and so are looking for a reason to head West from time to time).  Some of our staff members have listened to their Crossroads CD and have been greatly blessed by it. 
We thank them, and many hundreds of people each year, who volunteer at the museum and AiG.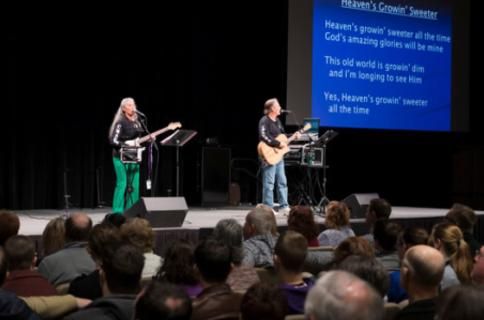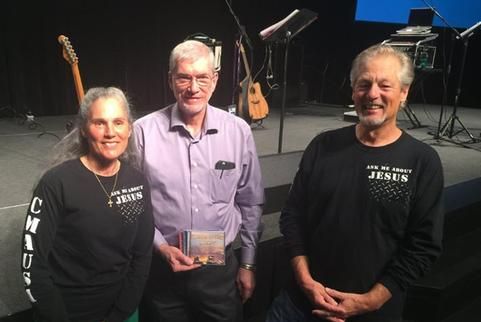 Ken Ham Blog 
Music to Our Ears 
by Ken Ham on April 12, 2015 
Every Tuesday and Thursday morning at AiG, we have a special time with the entire staff to start off the work day. We often have a guest pastor or other Christian leader share devotional thoughts with our staff—it's in an effort to start off the day on an encouraging note. 
Recently, we were blessed with some special music from AiG friends and volunteers Robb and Kathy Blanchette. They travel around the country in their RV and give several gospel concerts each year, and we have really grown to appreciate their musical talent and their passion for the Lord. 
While with us at AiG last week, Robb and Kathy were also volunteering their time in the office and our warehouse. 
The Blanchettes have some open concert dates in June when they will be making a loop through Illinois, Tennessee, North Carolina, Kentucky, and Wisconsin—perhaps your church will consider hosting these fine musicians in June if it's located along their route. Contact them about their availability at RobbandKathy.com 
​Here is a photo of the three of us taken after their 25-minute "mini" concert for our staff and volunteers—I am holding some of their CDs, which my wife Mally and I will enjoy listening to. 
Thanks for stopping by and thanks for praying, 
Ken​

Robb & Kathy Blanchette perform at Terrace Heights 
By Kathy Behnke 
        Before heading south for the winter, recording artists Robb and Kathy Blanchette made a stop at Terrace Heights to share their music ministry with tenants and friends.  As the concert began, the audience was encouraged to sing along as they enjoyed songs such as Blessed Assurance, Victory in Jesus, Amazing Grace, and Abide With Me.  To introduce each number, the couple read a portion of the Bible each song was related to.  As described by Kathy, "This is music with a message - life of hope in Jesus." 
        There was a lot of diversity throughout the afternoon as the musicians performed songs in the styles of worship, polka, reggae, country, A Capella, blues, and even some acoustic.  One thing, however, was consistent, "Each and every song is inspired by words found in Scripture." 
        The concert concluded with a blessing and the encouragement for everyone to "Take the music with you in your hearts and be refreshed." Some in attendance did more than that; they also took the music - in CD form - with them when they left. 
        As they stayed to meet and talk with the performers, many audience members expressed their appreciation for the concert, as well as their desire to have Robb and Kathy come back when they return to Wisconsin in the spring. 
       This is just one of the many community events that Terrace Heights hosts each year. For more information please call Terrace Heights Retirement Community at 608-847-2377. Date: 11-6-09