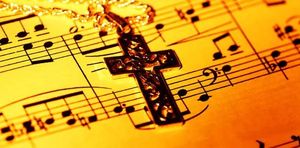 Invite Robb and Kathy to minister to your group with their music
At Your Church  
Robb and Kathy perform a variety of Christian music. From traditional hymns and songs to contemporary praise and worship. They can tailor their presentation to match the style of worship at your church.  Even playing completely different songs at different services, if the need arises. 
At Your RV Resort
Robb and Kathy have been performing at RV Resorts across America since 2008. You can book them for a Concert, Holiday Celebration, Party or Church Service. Each December, a fun favorite of theirs, is to lead a Christmas Sing Along.  Religious and secular songs are performed as participants sing along with the words printed out in a Christmas Booklet
At Your Event, Meeting, Revival or Rally
Whatever the circumstance; Robb and Kathy are prepared to touch your spirit with their God-honoring, uplifting, energetic music and dialog. Contact them today to secure your date.